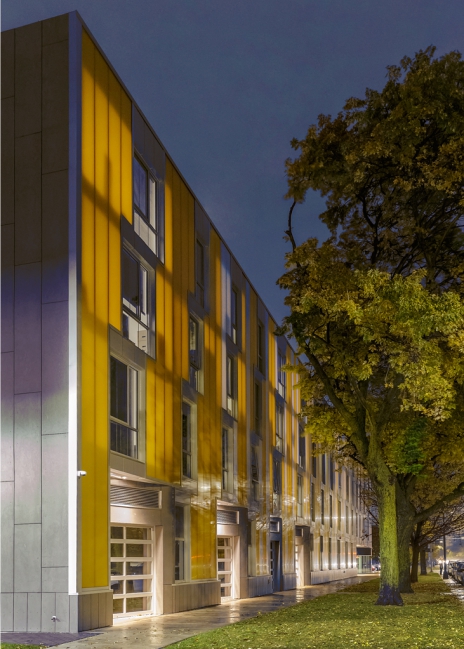 KLEO Art Residences is an innovative, new development located in the Washington Park neighborhood at Michigan Avenue and Garfield Boulevard in Chicago. A mixed-use, mixed-income community, the property comprises four floors with 4,824 square feet of commercial space on the ground level and 58 apartments in a mix of 3 studios, 39 one bedroom and 16 two bedroom residences.
KLEO Art Residences offers 2,177 s.f. of fitness and community gathering spaces and 1,500 square feet of artist studio spaces. A strong community presence, energy efficient appliances, individual entrances, and open floor plans are just a few of the features and amenities offered to residents.
KLEO Art Residences was developed as a catalyst to complement and enhance the resurging dynamics of the Garfield Boulevard arts corridor. The groundbreaking design of the building pushes the boundary of modern and functional aesthetics. The form of the building fits seamlessly into the neighborhood while its translucent facade does the opposite, providing optimal daylight on the inside, while literally glowing on the outside at night to serve as a beacon to the Washington Park community.
KLEO Art Residences' unique design is enhanced by numerous amenities, artist studio spaces, retail and commercial spaces, and great location. It is truly a desirable place to call home.